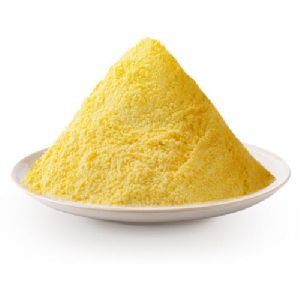 Maize flour or makki ka atta is a common ingredient in every household of India. Maize flour manufacturer in Jammu prepare it using corn kernels. Winter is the special season for makki ka atta. Rotis made of this flour if served with sarson da saag and topped with white butter, no one can resist their taste buds. This flour is equally admired by the health watchers and the basic reason to that is it is gluten-free. So, let's see first what the nutritional benefits of this flour are.

Nutritional value:
Karnel part of the corns is an edible and most nutritive part of the maize plant. Maize flour made of corn karnels offers loads of nutritional benefits. It is rich in carbohydrates, phosphorus, sulfur, calcium, potassium and magnesium. It also includes proteins, good fats, fibre, sodium, riboflavin, amino acids, iron, copper, thiamine and vitamin C.

Maize flour also includes several phytochemicals such as phytosterols, phenolic compounds and carotenoids which offer various benefits on human health. Hence, regular consumption of maize flour can wipe out the chances for various chronic diseases. Its lectin component significantly helps in fighting the HIV virus. Makki ka atta is also rich in RS or Resistance starch which is known to produce short fatty acid chains and thus relieves in diarrhea, cancer symptoms, atherosclerosis and obese.

Various research results have shown that maize flour has prebiotic effect too.

Health benefits of Maize flour:

• Makes a gluten-free diet
Maize or corn is originally gluten-free. People, who are suffering from enteropathy or celiac disease, can safely consume this flour. Some scientific research results say that few types of maze are available which have the similar amino acid chains that are seen in wheat. So, before offering maize flour to a patient who needs gluten-free diet, check the levels on its back.

• Offers added benefits when consumed in winter
Corn offers a range of health benefits especially in the winter days. During cold we become lethargic and thus we need to consume such foods which can keep us energetic all through the day. Maize is dense in vitamin B-complex which is super helpful for heart, skin and hair health, and advances digestion process. Also, there are vitamins A, C, and K, selenium and beta-carotene which all together advance the functioning of thyroid gland and the immune system in the human body.

• Helps in weight loss
Maize flour includes fiber which is an important element for weight loss. Its presence makes the maize flour a complex carbohydrate for your body which makes you fill fuller for a longer time.

Tips: How can you consume maize flour?

Here are some useful tips to consume maize flour every day while keeping all its health benefits intact. I am sure you will like these ideas –

• Make roti by mixing a portion of maize flour with wheat flour

• When making gravies, add a few teaspoons of makki ka atta into it to add some extra flavor and thickness into it

• Maize flour is an important binding agent too

• Prepare tikkis, parathas and phulkas using makki ka atta as a part of your weight loss program

Contact any maize flour manufacturer in Jammu & Kashmir for the best product at the best price.
This entry was posted on September, 11, 2020 at 17 : 59 pm and is filed under Maize Flour. You can follow any responses to this entry through the RSS 2.0 feed. You can leave a response from your own site.